Posts: 698
Joined: Thu Jul 26, 2018 7:35 pm
Location: Iron City, TN
Good looking Birdshead you have there, for the money you can't beat the Wrangler.
Bennett
Any day without learning is a day of backing up.
---
Posts: 828
Joined: Tue Sep 08, 2015 3:42 pm
It looks good. The Wrangler is something you can tinker with and not feel like you are ruining a 1950's vintage Ruger .22. I am more of an owner than specific collector, so this group is great. I love looking at all the categories listed and learning new things as well as making great friends...
Some people sit on $.05 of knowledge like it is the treasure of Egypt. I will teach anyone $.10 worth just to prove a point...
---
Posts: 1015
Joined: Sat Nov 28, 2015 6:31 pm
Location: Arkansas
So far I have the black, silver, bronze, RSR OD green, the Talo blued one that came with wood grips and a holster, the Big Rock Sports black cherry, and the Bill Hicks crushed orchid. I plan to keep collecting them but don't plan to get any of the birdsheads because I don't particularly enjoy the feel of those grips in hand. For the price, easy to collect! The three original colors that I purchased have all been to the range with me and some buddies. All function and shoot well thus far but they are certainly no single six.
"I know of no more encouraging fact than the unquestionable ability of man to elevate his life by conscious endeavor." - Henry David Thoreau
Aquatic Biologist
NRA Life Member
R.O.C.S. Editor
R.C.A. Member #5050
R.E.N.E Subscriber
---
These little birdies are pretty cool with the 3.75 barrel. Have 4 birdsheads , 3 of the with the shortie barrel which I really like. I gave up trying to collect Wranglers, doubt the new versions will ever stop, as we are all seing yet again.
---
I have the Bronze Wrangler, and it is one of the most fun handguns I own.
Goodnight Chesty, wherever you are.
---
Posts: 157
Joined: Tue Aug 10, 2021 12:36 pm
I only had the Wrangler for a very short time as I am very limited in my home country when it comes to the number of weapons. If I had to describe the Wrangler in one sentence I would say "a lot of guns for little money". If one day I am allowed to own several guns, I will definitely buy another one, maybe even with a Birds Head grip
---
I'm not a hater or a lover, but I have a tarted up "GopherGetter" waiting to be exercised when thing warm up!

Rex
---
Posts: 201
Joined: Thu Nov 11, 2021 5:30 pm
Location: AK
Went with son to pick up his Wrangler last week. He had ordered a standard Wrangler in black cerakote, but they accidentally sent a birdshead. Dealer offered a discount, but he wanted the regular Wrangler. While the dealer and him worked out getting the one he wants, I pick up the Birdshead to have a look. Needless to say, not being one to pass up a bargain (insert "sucker" here), I took it home with me.
Figured I'd keep it until his came in and then he could compare the two, just in case he might change his mind. Well after all was said and done, looks like I'm stuck with it.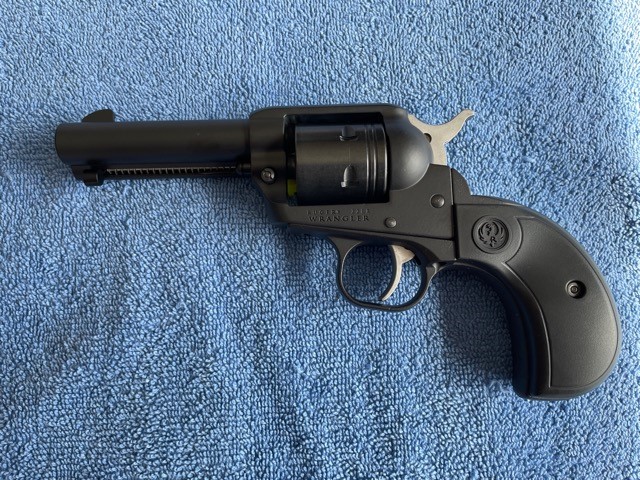 ---
Posts: 157
Joined: Tue Aug 10, 2021 12:36 pm
I personally like the Wrangler and I also like the Birds Head Wrangler.


It's just a lot of gun for little money and it's really fun to shoot with.
---
Picked up a bronze colored Wrangler at a garage sale today and the wife said it's mine, and she shoots better than me, what's the word coming to, awesome wife.
---